Note: This article was originally published on May 24th, 2015. It's been updated as of May 8th, 2016, to include a rundown of all the reasons that you should still be excited for the future of Kik Messenger. If you needed a compelling reason to get it up and running on your computer, let 2016 be that reason.
Kik Messenger was made for mobile phones, but it's clearly more fun on your computer with all the benefits of a bigger screen, better graphics, convenience and more.
Whether you're at your office desk, at home lounging on your couch, or at a coffee shop doing work, it's essential to have the flexibility and ease to use Kik on any device you want, whether it's an iPhone, Mac, Android, or PC. Unfortunately, as is the case with many of my current apps, the developers are entirely focused on a mobile platform, and there's no intention (at least, none visible) to extend over to a desktop version or even a web-based client. This may be because the team feels there's not sufficient market for other platforms, or it could be that the teams resources are stretched (for now), and they cannot presently make the port. Or it could be short-sightedness. I'm not making any claims on these points, as I don't have any inside information on Kik. But all I know for sure is I want more variety in how I can interact with my messaging apps than most developers are currently willing to provide. That's why I've become a huge fan of mobile platform emulation.
For you fellow Kik fans out there, I'll walk you through the basics of downloading the app and getting it to run on pretty much any device. However, it's essential to keep in mind that the developers of Kik built it for mobile platforms so it requires a bit of work. However, if you're willing to follow along with me, I guarantee you'll get Kik for computer up and running in less than 10 minutes and completely free.
"I think it's fair to say that personal computers have become the most empowering tool we've ever created. They're tools of communication, they're tools of creativity, and they can be shaped by their user." – Bill Gates, Founder of Microsoft
Why Get Kik On Your Computer?
Whether you're new to Kik or if you've used the app for years, there comes a point where you want to branch out and continue your conversation on different platforms and with the convenience of new technologies. There are a number of times where I wish I could sync all devices I own and use daily into one platform and one online identity. True, Apple has lately become very good about universal integration of all their devices (so much so that the latest iOS upgrade includes the Apple Watch app, which you cannot delete, even if you have no intention of every buying an Apple Watch, but that's another story). The latest generations of OSX have included the function "Handoff," which allows you to work on something in an app on your iPhone or iPad, and then (if it is one of the handful of apps supported by this function) carry it over to your MacBook or iMac with no need to save, airdrop, put on a USB, or otherwise manually transfer the file.
But not all of us have Apple devices at every point around us. Some of us may choose a different brand for every particular need. And that's fine, that's the way it should work. But that doesn't mean we should have to give up on being able to use all of our devices in concert with each other, if that's what our needs are.
We've been slowly moving more and more to a world where everything is computerized. You can now buy "smart" thermostats, fridges, cars, watches, and even smart toothbrushes. All of these devices are getting smarter and smarter to help boost the convenience, power, and efficiency of each device. However, we're getting to a time where someone may have dozens of different platforms, social accounts, emails, etc. in their life.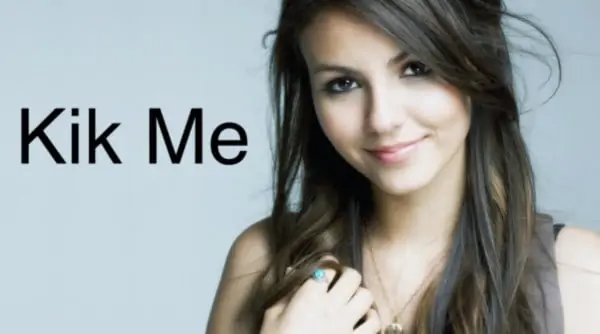 The next big stage of computing will be to take all of these disparate and technologically advanced devices and let them talk to one another, sync devices, maintain a consistent platform of functionality, feel and design. That's where this article comes in. You should be able to use Kik on any one of your devices from your smartphone to your computer to your smart watch and eventually to a virtual platform that access and controls all devices.
Therefore, if you'd like the convenience to sit in class or at work with your computer and message your Kik friends, you've come to the right place. You can take advantage of a larger screen size, higher resolutions, faster processing power, potentially faster internet, and the flexibility of deciding your own device.
Kik for PC Features
The basis of getting Kik to work and run on your computer is that you have to mimic an Android device on your computer so that the app runs just the same as it would if it were on a smartphone.
There are some downsides to using this method of Android emulators but it's really the only option to run apps. You may notice that some emulators don't play nicely with your graphics card. If that's the case, I would recommend trying a different emulator until you find one that works well with your setup.
You will be able to use almost all of the features of Kik including:
Start group chats with up to 50 people. You can make the group chat either public by using a specific and unique hashtag or you can make them private
Send and receive photos, videos, gifs, memes, etc.
Text unlimited times completely free. This is because Kik is a free service but you will be required to pay for your internet data. It's best to find free WiFi somewhere at a coffee shop or at your school or office.
Sync your contact list with your Kik account
There are a couple downsides, however. One is that you may not be able to get your computer's either built in or external camera to work with Kik. If that's the case, just take an image and then upload it to send instead of streaming it real time.
DISCLAIMER: Another downside is that you will likely need to log out of your Kik account on your mobile device when you login on your computer. This is a big downside because you will loose all of your chat history on your phone when it forces the phone to log out. A good way around this is to create a second account for your computer and keep your first account on your phone. You will just need two different email addresses for this to work.
Note: Although Kik is also available for iOS and Windows Phones, this walkthrough focuses on Android emulation. While I'm always looking for a good iOS emulator, I've yet to find anything that is consistently a good experience. And as for Windows Phones… I just don't have enough exposure to them to know what's out there. If anybody has any experience with either an iOS or a Windows Phone emulator, let me know about it in the comments and I'll look into it.
How To Get Kik For Computer
Now, let's get into the meat of why you visited this page and outline step by step the best, fastest, and free way to get Kik on your computer. There are a variety of different Android emulators, from Andyroid to BlueStacks to YouWave.
I personally recommend Andyroid as I find it's the most reliable, easiest to use, and least likely to crash or not work with your graphics card. BlueStacks has been in the market a bit longer but it tends to be very buggy and I've rarely had a good experience using it.
Luckily for you, Andyroid works on both PC and Macs so no matter your computing preference you can run this emulator and the steps to get it setup and running are practically the same.
To download Andyroid running Kik just follow these steps.

1. First, make sure you have a Google Play account by simply heading over to play.google.com and signing up. This is essential as Andyroid will use your Google account to sync your profile and download Kik to your computer. You don't need to register the account with an Android device when you use Andyroid, it will take care of that after you install it.
2. Now that you've gotten your Google account, you can head over to Andyroid.net and download Andyroid using the button at the top. This will automatically determine whether you're on a PC or Mac and download the correct emulator to go with your operating system.
3. After it's finished downloading you will want to find the install file and double click on it and follow the step by step instructions.
4. You will be asked to verify your Google account and make sure you do this step. This will automatically make it so that you can download and install Kik right on Andyroid. Also, if you have an Android device you can opt for it to sync your account on the emulator so you will get all the apps you have on your smartphone right on your computer.
5. Next, you will notice the main screen of Andyroid looks just like a fresh install of Android on a tablet. Double click on the Google Play icon at the bottom if it didn't already sync Kik.
6. Use the search function and type in Kik Messenger. You'll notice it comes up with the option to get the app on your device.
7. Click to get the app and this will install it onto your emulator's desktop. When finished, you're ready to start using Kik.
8. Open up the Kik Messenger app on your computer and you will be asked to either sign up or sign in with a current account. NOTE, if you use your login for a current account this will automatically log you out of Kik on all other devices and delete your messages.

If you don't already have a Kik account you can just sign up by entering in your full name, email address, password, and your desired Kik username. If your first choice in username is taken, just try a few more until you find one that is free.
Helpful Andyroid Tips and Tricks
Now, I'd like to outline some very helpful tips and tricks for Andyroid that will make it easier to use. First, let's get into the requirements your computer must have to use the emulator.
You must have Windows 7 or 8 or x64. If you're on a Mac, you must have the newest operating system or else you may find it will have bugs. It will work on older OS X but may crash more frequently.
At least 3GB of RAM to run the software without it freezing
More than 20GB of hard drive space.
Your video graphics card must be up to date with an updated driver and OpenGL ES 2.0 capable video card. Most cards fall into this category so if you have a relatively new computer you won't have to worry.
You will notice that there are several features on Kik that work better when you swipe instead of click. However, Andyroid doesn't work with swiping very well and you will want to just click instead of trying to swipe.
If you find yourself frustrated with Andyroid and it's not working with your graphics card or it is crashing a lot, I would suggest next trying BlueStacks and if that doesn't work, move on to Manymo. Manymo is a cool option since it is completely online and doesn't require you to download an emulator onto your computer. This is great if you want to run Kik at a internet cafe where you don't own the computer and aren't supposed to download any apps onto it.
Keep in mind that the developers of Kik are constantly changing and updating the app so you may find that there are new and better options down the road. I'll try to highlight them as they become available.
Kik in 2016 – New Directions
Here we are, more than a year later, and Kik is still churning on as one of the top contemporary messaging apps used by young people. It still manages to distinguish itself from an ever-crowded pack, going toe-to-toe with apps like Snapchat, WhatsApp, and Instagram. Kik Messenger is still its own, unique experience, and the developers have positioned their prize at the very cusp of mobile messaging advancements.
Tech journalists are calling 2016 "the year of chat." Take a gander at Kik and what they've been up to over the past year, and you'll likely adopt the moniker yourself.
User Safety
First, let's address one of the major concerns that users have always had about Kik; in particular, parents who are worried about their kids using Kik Messenger. Since there's always been a double-edged veil of anonymity attached part-and-parcel with Kik profiles, it only makes sense that the developers have taken extra steps to safeguard the youthful majority of their user base.
Kik groups, once searchable from within the app, now require an express invitation to be able to be joined. This doesn't necessarily result in a more closed-off app, but it does mean that these groups can be harder to find. On the other hand, Kik's web browser now allows users to share links from anywhere on the internet, a particularly handy feature for mobile users, and a fact that has allowed dedicated Kik groups to find others to join them through other avenues of the web.
All in all, it's a single, simple step that's helping the app to have a reputation as a safer place for young people to chat.
Bots, Bots, Bots!
Even the briefest glance at the Kik developers' blog will tell you all about the app's forward momentum in 2016. The engine on this train reads bots loud and clear, and far more apps than just Kik are paying attention to this trend.
Click over to the Kik Bot Shop to see just how dedicated Kik Messenger is aiming to be towards these simple, automated task scripts that are slowly invading our lives. While bots have been around on chat servers for years, cooking up whatever tasks we set them to, it's only recently that developers are beginning to conceptualize further uses for this programs. Consider, for a moment, how many apps you use for the following tasks: messaging, maps, email, shopping, ticket-purchase, music, news, and searching.
If you're like me, you probably have at least two apps for each of those tasks, and it's resulted in a crowded and cluttered smartphone. Now, consider if each of those tasks could be consigned to a bot which is then made available within Kik Messenger. Each of those things could be accomplished from the comfort of a single chat window.
With that in mind, take a closer look at Kik's Bot Shop. Is it clearer, why so many developers are calling this "the year of chat?"
I hope you liked this guide and found it helpful. I bet this was one of the easiest tricks you've done and best of all, completely free. Please share this on Facebook and Twitter so everyone else can get Kik on their computer. Comment below if there are other good options that you know of or other tricks that you've used in the past.