"Level up" a saying among my brothers and I when it was time to put in the hard work and get the job done. It's a challenge to step up your game and compete at a higher level. A lot of games use levels as a marker of progress, and a system for unlocking more content. One such game is Hay Day.
That leads me to the question pertinent to this post. What is your level? 15, 46, 123? No matter where you're at or how experienced you are, I'll walk you through some tips both for experienced and beginners.
Hay Day has been around for about two years now and people are still wondering what it takes to get to the next Hay Day level and what sort of awards and bonuses will you get at the next step in the game. I'm here to guide you through this awesome game and give you some tips along the way to get you as far as possible.
But first, if you're new to Hay Day it may help for me to get a little into the game and describe the strategy, features, overall goal, etc. If you're new to the game you almost certainly have heard of Supercell's other games, Clash of Clans and the recently released Boom Beach. All three games of Supercell have a common feel to the game but different "worlds" different strategies and goals to progress in the game.
What is Hay Day?
To give you a picture of how popular Hay Day is, there are over 350,000 reviews on iTunes and  3,100,000 reviews on Google Play with about 4.5 out of 5 stars on both! If that doesn't peak your curiosity, I don't know what will.
If you're new to Hay Day the premise as you can guess from the name is based on a farm, reminiscent landscape of FarmVille if you've played it before. You will start the game needing to take care of a farm, harvesting wheat, taking care of the animals, etc. The goal is to sell your products through a number of different venues to get more coin so that you can expand production and your farm. You also get more experience points which will allow you to level up in Hay Day.
There is a feature where you can play the game with other people in a community where you can help each other and build a community of farmers. Supercell is constantly adding new aspects of the game and is great at supporting the game if there are any glitches in their servers or the game.
What are Hay Day Levels?
The life and blood of Hay Day are its levels and as a farmer, progressing through those levels as far and quickly as possible. You move from one level to another based on selling your crops, taking and filling orders, harvesting crops, doing crafts, and even filling boat crates. The method of leveling up in Hay Day is to gain more experience or XP. The number one way to do this is to take and fill your orders from your order board. You can tell what level you're at by the blue star at the top middle of the screen.
You will level up once you get the blue bar filled up all the way. As you can see in the screenshot below this is from just starting the game. You're at Hay Day level 1 and you need 27 XP to get to level 2. Of course, you will need more XP to reach the next level as you get to higher and higher levels.
Level Up Tip: Make sure you look at different orders on the order board and pick the ones that give you more XP versus more gold. You will want to choose the one with more XP to quickly get to the next level. The XP is indicated by the blue stars, they will fill up your experience bar at the top middle of the screen and allow you to level up.
What Is The Highest Hay Day Level?
There is a lot of disagreement when it comes to what the highest Hay Day level is and I think some of the basis of this is caused by Supercell. It appears that initially the highest level was 100. However, my guess is that Supercell has changed what the highest level is as the game has gone on. The reasoning behind this is simple.
Supercell doesn't want a significant portion of their user base reaching level 100 and stopping the game because they "beat" it. That means no more potential revenue from those people and users stopping Hay Day because of a built in attribute.
Hence, I think Hay Day has continually increased their highest level to accommodate users getting to higher levels. The confirmed highest level right now is 300! It was confirmed on the Supercell forum by a Supercell employee stating "Currently the highest you can go to is 300. Of course if someone hits that, we will up it again." which goes to show that Supercell's goal is to have basically an unlimited number of levels. It's good for business and very easy to implement into the game.
Hay Day Level Rewards List
There are various awards depending on which level you get to, they range from diamonds, to corn, to TNT, to sheep, to raspberries, sugar, iron ore, cat, etc. There are literally hundreds of things you receive at every level. There are a few trends you should take note of when you level up in Hay Day. Below are good rules of thumb when it comes to the various levels and what you get:
At first, you will get pretty basic things such as feed, corn, meal, feed mill, etc. These things will keep you able to upkeep your farm. then you will start to get better things such as cows, more crops to grow, pigs, sheep and more.
Throughout the levels you will get diamonds of varying amounts so that you can buy more things as diamonds are a great source of currency.
You can start to mine at level 24 and you can start to fish at level 27.
At level 70 you stop receiving items and just start receiving diamonds, first 4, then 5 diamonds.
Starting at Hay Day Level 100 you get 10 diamonds for every level up. There is no data on levels above 123 and what you get after those levels. My assumption is that you continue to get higher amounts of diamonds.
Note that you don't need to purchase more diamonds in the game to continue to play but it does make the game go significantly faster. That is, after all, how Supercell makes their money so they purposely make it enticing for you to buy diamonds from them using real money. That way you can go through the game and level up faster and they get a few dollars from the players to compensate them for a free game. After all, think of how much entertainment you get from Hay Day for a completely free game.
For all those that drool over getting to level 100, here's a screenshot of the level up. We can all wish, honestly, it will be quite a while till I get there, if ever. Oh well, it's fun trying to get there in the mean time!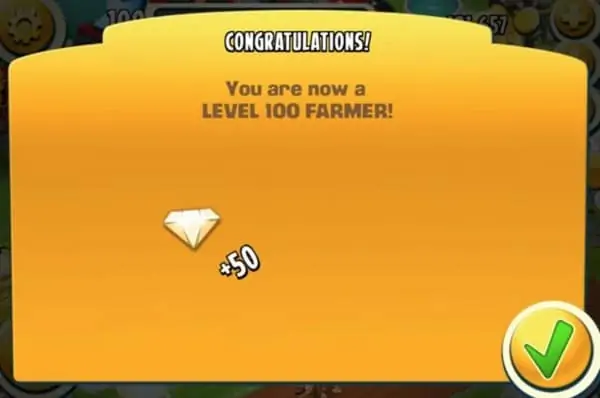 Hay Day Level Up Items Unlocked or Received
Below is a list of all the items you can receive from leveling up in Hay Day. They are sprinkled throughout the game so that you get to have exciting new items at different points in your conquest to have the very best farm out there.
| | | | |
| --- | --- | --- | --- |
| Andalusian | Chili Pepper | Hot Chocolate | Red Scarf |
| Apple Jam | Chili Popcorn | Hound | Retriever |
| Apple Juice | Chocolate | Ice Cream Maker | Rice |
| Apple Pie | Chocolate Cake | Indigo | Roasted Tomatoes |
| Axe | Chocolate Ice Cream | Jam Maker | Rose Fence |
| Bacon | Chocolate Popcorn | Jelly Beans | Salad Bar |
| Bacon and Eggs | Coffee Beans | Jeweler | Sandwich Bar |
| Bacon Pie | Coffee Bush | Juice Press | Sauce Maker |
| Baked Potato | Coffee Kiosk | Keg | Saw |
| Bakery | Coins | Lamp | Seafood Salad |
| Barrels | Cookie | Land Deed | Sheep |
| Basic Farm | Corn | Lemon | Sheep Feed |
| BBQ Grill | Corn Bread | Lemon Cake | Sheep Pasture |
| Bench | Cow | Lemon Curd | Shepherds Pie |
| Berry Juice | Cow Feed | Lemon Pie | Silver Bar |
| Berry Smoothie | Cow Pasture | Lemon Tree | Silver Ore |
| Bird bath | Cream | Lettuce | Smelters |
| Blackberry | Cream Cake | Lobster Soup | Smoothie Mixer |
| Blackberry Bush | Dahlias | Lobster Sushi | Soup Kitchen |
| Blackberry Jam | Dairy | Lobster Tail | Soy Sauce |
| Blackberry Muffin | Daisies | Lollipop | Soybean |
| BLT Salad | Diamond | Loom | Spicy Pizza |
| BLT Toast | Diamond Ring | Lupines | Stable |
| Blue Sweater | Dog House | Mallet | Stone Path |
| Blue Woolly Hat | Donkey Stable | Marker Stake | Strawberry |
| Boat Dock | Dynamite | Mayonnaise | Strawberry Cake |
| Bracelet | Egg Sandwich | Milk | Strawberry Ice Cream |
| Bread | Egg Sushi | Necklace | Strawberry Jam |
| Brick Wall | Espresso | need update | Sugar Mill |
| Brown Donkey | Feed Mill | Neighborhoods | Sugarcane |
| Brown Sugar | Feta Pie | Olive Oil | Sushi Bar |
| Butter | Feta Salad | Olive Tree | Sweater |
| Buttered Popcorn | Fish And Chips | Olives | Swimming Pool |
| Cacao | Fish Pie | Outhouse | Syrup |
| Cacao Tree | Fish Soup | Pancake | Tabby Cat |
| Caffé Latte | Flower Hedge | Picnic Table | The Stallion |
| Caffé Mocha | Fountain | Pie Oven | TNT Barrel |
| Cake Oven | Fresh Hay | Pig | Toffee |
| Calico Cat | Garden Bench | Pig Feed | Tomato |
| Camp Fire | Garden Swing | Pig Pen | Tomato Juice |
| Candy Machine | Gazanias | Pinscher | Tomato Soup |
| Caramel Apple | Gazebo | Pizza | Tuxedo Cat |
| Carrot | Goat | Platinum Bar | Vanilla Ice Cream |
| Carrot Cake | Goat Cheese | Platinum Ore | Veggie Bagel |
| Carrot Juice | Goat Feed | Popcorn | Vouchers |
| Carrot Pie | Goat Milk | Popcorn Pot | White fence |
| Casserole | Goat Yard | Potato | White Sugar |
| Cat House | Gold Bar | Potato Bread | Wood Pile |
| Cheese | Gold Ore | Potato Feta Cake | Wool |
| Cheesecake | Green Smoothie | Raspberry | Yogurt Smoothie |
| Cherries | Grey Donkey | Raspberry Bush |   |
| Cherry Jam | Hamburger | Raspberry Jam |   |
| Cherry Juice | Hedge | Raspberry Mocha |   |
| Cherry Popsicle | Horse Palomino | Raspberry Muffin |   |
| Cherry Tree | Horse Pinto | Red Berry Cake |   |
*For a list of rewards you get at each level head over to Wikia for a complete list all the way to level 123. They go into detail of every level, along with pictures of each level and more.
Hay Day Levels Tips & Tricks
Here I'll provide some rapid fire tips and tricks that will get you breezing through the Hay Day levels. Remember, there are different strategies for everyone but these are tested and are generally accepted by the Hay Day community.
1. Make sure you grow crops with high value so that you get more money for the crops.
2. Expand your silo as fast as you can and use capital to do so. Your cap is at 10,000 spaces and make use of it. It's essential that you fill the silo with wheat and if needed you can buy more wheat from other players to make sure your silos are always full.
3. If you don't like what's on the newspaper and what kinds of deals it's providing, just change the language from the one you're using to something else and it will present you with a new newspaper and a bunch of new deals. After you've checked out the deals make sure you switch it back so that you can continue to understand the text.
4. I recommend only doing orders if they are easy crops like wheat crops, mainly just the white orders but you can do blue orders for vouchers.
5. Make sure you maintain and keep your roadside shop maintained. I find that the roadside shop is good for information and a good way to sell a lot of your items. Keep your cheap items on the post and then you will entice people to come in and at that point you will sell a lot of other items.
6. You will also want to make sure that you don't buy products that you can easily make for yourself. You will want to rely on the newspaper for things that you can't make yourself. The yellow tags are usually really good deals and you will want to water the trees and all of the bushes. You'll always want to look for a red tool box and you can get a bunch of free items.
7. A great trick is that if you need anything to expand your land or if you want materials for building you can head over to the Supercell website. There is a forum thread where you can trade and buy different items from other users. If you're right at the end of completing something you can head over to the forum and buy or trade something that will help you finish it up.
Have any other questions or comments about how to Hay Day levels work and how to level up as fast as possible? Let us know below what your experience is leveling up and whether you buy diamonds to make it go quicker. After all, remember that the point of the game isn't to get to level 100 but to enjoy the ride. Hope you enjoyed it!