You might be wondering why this tech website is publishing a list of funny faces! Here at Appamatix, we try to take the stress off of your tech experience by providing the absolute funniest faces from around the web. Most of the time, we bring you tips and tricks for popular apps in order to help you overcome your tech problems.
But sometimes, let's be honest, the real tech frustration (whether it's in the office, in the classroom, or wherever) results from user stress. So, in the spirit of helping you with your tech problems (whatever may be causing them), we're going to let our hair down for a moment and just be silly.
As a kid, especially if you had brothers or sisters, you probably made a lot of faces. For an imaginative or active child, your face was soon discovered to be a great toy, which you could take anywhere. You're on the school bus, you're in a car ride, your at church… your video games and Legos are all at home, but you can keep yourself occupied just by making goofy faces at each other.
So here's to that simple joy, imagination and goofiness, as we take a look at some silly faces that have hit my funny bone around the internet.
"Laugh, and the world laughs with you. Sneeze, and it's goodbye, Seattle!" — Charlie de Bergen (Steve Martin) in Roxanne (1987)
Funny Faces of 2020
Our faces are interesting. Just like emoticons, we can use them to express complex thoughts without needing to resort to words.
The funny thing about funny faces is that, from a very young age, we are trained to recognize faces as faces. And it doesn't take much for us to see something as a face. Which is why something like this:
:  )
Can instantly be recognized as standing for this:
Seriously, studies have been done with babies. Two dots and some sort of indication of a mouth, and they recognized it as a face. For more about the artistic and social implications of this, take a look at Scott McCloud's Understanding Comics. But in the mean time, try and look at this and not see a face:
Or this:
And since we're so hard wired to recognize faces, and know what a face should look like, something like this really stands out to us as something unusual, and the sudden reversal of expectations causes an eruptive reaction. In short, we laugh. Which is why we chuckle when we see something like this:
Of course, the face itself is only part of the joy of that last picture. If you haven't seen that episode of Bob's Burgers (and you totally should), Tina is normally pretty straight laced and stoic, but now she's really worried about something, and her father says "Let me see your 'everything's okay' face." Above is the result. That's not a face that says "everything's okay." Also, something else that gets us about this one, is that's not really what a face does. Trust me, my wife and I try to make this face at each other all the time, and we can't get the muscles to do that. If you can do it, put a picture in the comments.
Well, I can think of probably one person who can do it. Amy Sedaris:
Funny faces are more than just a great way for children to amuse themselves. They're a large part of our culture. Funny faces have been preserved all the way from antiquity. Don't believe me:
You, Too (or at least your face) Can Be Funny!
Maybe you think you can't make a funny face, because your notion of funny faces is entirely bound up in something like this:

Yeah, this is one that's been making the rounds a lot. It used to show up in a lot of joke emails. And the thing is, this face has been digitally altered, composited from a lot of different faces (not all of them human). If you didn't realize that, I'll give you this moment to take a sigh of relief for the human species. Search for funny faces, and you get a lot of things like that. Or like this:

This is the face of Rowan Atkinson (aka Mr. Bean) super-imposed on the head of Hillary Clinton. Believe it or not, there are hundreds of pictures of Atkinson meshed with other otherwise recognizable faces. Or else you see things like this:

Face swaps have also become really common lately. It's still playing with the same idea: messing around with our expectations of what a face should look like. But it can be discouraging to see stuff like that over and again and think, Well, I can't make a funny face. I would need to install Photoshop. In real life. On my face.
But you, too can make funny faces! You're born with the ability!
Oh, sure, at first it ay be mainly that you're trying to figure out how to make your face work like your parents do, mimicking the things you seem them doing, or even just playing around.
And maybe part of it is that it's not anything we're doing (by which I mean, the baby version of us), as much as some idea that our parents or other ideas are imposing: We're just moving around, but our parents say something like "Oh, that's the face you make when you talk to your mom on the phone." Putting a bunch of complex ideas on it when we're really just, you know, babies.

But somewhere along the way, it's not an accident of gas, and it's not something our parents or other adults are just assuming that we're doing. Somewhere along the way, we are seriously trying to communicate something.

(And sometimes, what we're communicating is, Stay the @!#$ away right now.)
But making funny faces is a skill. And it's not a skill that we necessarily lose as time goes on.
In fact, depending on the suppleness of our skin, and on our dental histories, our ability to make goofy faces can even improve as we're getting older and older.

So if you're not seeing a lot of people making funny faces in between infancy and senectitude (that's just a fancy, less insulting, more highbrow way of saying "old age," coming from the Latin word for old man), it's not because the faces aren't possible. It's just because you're not making them. You're probably just out of practice. Go ahead, try that face from above!
Keep trying; you'll get there.
But if your face isn't yet to Stretch Armstrong levels of pliability, there are still things you can do. Here's an old classic: one of those that every fourth grade thinks he's discovered. Still, in the right context, it let's everybody know you're a whimsical human being:
This one's not hard to do at all. You can practice all by yourself. Maybe even take a picture in order to check your progress: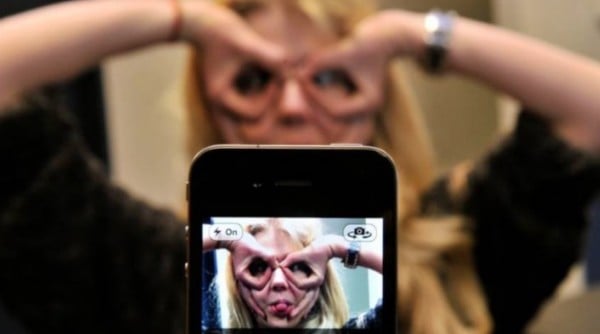 Good job! We call them funny faces, but really, using your hands is not out of the rule book! This one above has gone for advanced points by adding a stuck-out tongue into the mix. So let's add even another ingredient. Can you puff up your cheeks
Good job! Crossing eyes, puffed up cheeks… depending on your physiognomy, there's a whole lot of combinations you can do with variations of those elements!
Just commit to it though.
In this picture above, are you trying to make a funny face, or are you posing for a glamor shot. Don't worry about looking less pretty. Beautiful women can make funny faces, too!
Seriously, just stop. Just be silly. You can't have fun if you're still using half your brain to think "Oh, but is it clear that I'm pretty from this?" Just have fun! It happens all the time, and everybody knows that it's just a phase face, and that's not really how they look.
Beautiful Women Making Silly Faces
I'm pretty sure she never came down the runway looking like this. And if she did, I'd like to see that show.
Here, Scarlett Johanson, one of the most beautiful women in the world (and an awesome Avenger to boot) is totally willing to let her face flag fly. On the red carpet, nonetheless! And in her gown and jewelry! (Of course, this is the Golden Globes. I'd be curious to see if she'd ever do that at the Oscars.)

Silly faces don't have to be all smiles and dimples. Here's Katy Perry raging out in a pretty funny way. Perhaps this is when they told her that her Sesame Street appearance had been canceled.
Maybe you know her from Modern Family. Or maybe you're just a fan of her Rooms to Go commercials (in which case… what?) But Sophie Vergara is one of the hottest women currently on television. And if she's willing to goof out like this, then there's no reason you can't, too!
And it's not just the women who are getting in on the act. Men like to make funny faces, too.
Here, we have the star of Return of the Killer Tomatoes being a goof. (I always expected good things of him. What's he done lately? Incidentally, my VCR broke down in 1993, and it was my only means of interacting with popular culture.)
Here's Ronald Reagan getting in on the act! Hey, did you ever see that TV show he was on where he played the President? I think it was called State of the Union, and it only came on once a year back in the eighties.
It's been a while since I followed wrestling (I couldn't even tell you which guy this is), but there's no denying this is a funny face. I don't even want to know the context. I think it's funnier just believing that he walked up to the reporter and made this face.
Of course, sometimes, context makes a huge difference. In this case, it isn't the face that's funny as much as your knowledge of what's about to happen half a second after this frame.
Here's a variation on a theme, with the added bonus of looking like he's sneezing out the ball.
Dogs Making Funny Faces
So, funny faces are so natural, that even our pets can do them!
Although, admittedly, sometimes they need a little help:
It may come a surprise to you, but dogs can be total goofballs, too!
No, I mean it! Come on, Poochie, give silliness a shot!
Great job.
Here's a pup that's doing is impersonation of the old men from above:
I think he's pretty much nailed it, don't you?
Let's See Your Funny Face
Alright, so now the moment of truth, let's see your funny face!

Okay, not quite what I meant. Sure, the Guy Fawkes mask was made popular in a comic, but it's not that kind of comic. And who still calls comics "funnies"? No, you know what I meant, let's see your funny face!

Great job, next?
Yowza! Brilliant job inhaling with the nostrils to keep your upper lip in place.
Well, it's been a lot of fun looking at funny faces with you, and even making a few. If you still don't feel like you're really good at making funny faces, one thing you can do is find another funny face and work on imitating it. Here, I'll give you something to work on:

And while you're working on that, leave a message in the comments letting us know which one was your favorite, and where we can find some even funnier faces for next year!