I am of a generation whose members's feet are all scarred from stepping on Legos. Every time my mom vacuumed, she got another three or four Legos in the bargain. (I eventually developed the habit of "volunteering" to take the vacuum bag out to the dumpster, where I would sift through it to rescue my precious plastic blocks). I got older and eventually wasn't playing with Legos anymore (I assume they're all up in the Great Vacuum Bag in the Sky), but when Minecraft came out, it spoke to something very visceral in me Again, I had the freedom to play and explore with no limits. I had the satisfying challenge of building those terrific constructions which previously had only existed in my imagination. And I didn't have to worry about vacuum cleaners, storage space, or scarred feet.
Of course, Minecraft is a bit more complex than Legos. Variety is unbounded by my allowance, and constructions that are not possible in the physical world are suddenly achievable. This is a 3-D wonderland in some ways, but in others, it can be a little overwhelming. But, as is the case with many popular video games these days, Minecraft comes with a community of users, just like me, who are facing the same challenges (though not necessarily at the same time). We all need a little help every once in a while, that's why I've compiled the very best Minecraft secrets along with several tips and tricks to help you get the most out of your gaming experience.
Thankfully for the gamers out there, Minecraft has left quite a few easter eggs in the game, allowing us to search and find these awesome secrets. This helps keep the game interesting and fun, everyone likes to get a surprise every once in a while.
I'll walk you through a number of tips and tricks that will let you play the game better. In addition, I'll discuss some key strategies that you'll need if you really want to be a great Minecraft player.
"One of the things 'Minecraft' is most noted for is the freedom it gives the players to build and experiment with the tools. You start off with simple objects; axes, torches, helmets and swords. With a little time and experimentation, you move to switches, complex machines, mine carts, glass." – Rob Manuel
Minecraft Tips
As with many other types of games, strategy is key. A great thing about Minecraft, though, is that there is no one way to eat this particular Reese's. There are various strategies and it's best to try several and figure out which one is best for you. In many cases, it's not so much a question of strategy as much as it is priority or style of play. However, for simplicity's sake, I'll continue to use strategy throughout the rest of this discussion.
I'll go over some hopefully helpful tips and strategies, let us know in the comments below if you have any other ideas.
Diamond Mining Strategy
If you haven't hit it already, there will come a point in your play when every future development depends of finding diamonds. Now, some players, will just randomly hunt and peck around, jumping on anything blue. The find a diamond, dig it up, and then continue to roam around, scattershot, until they find another. I'm not saying that won't work, but you'll wear yourself out (or at least, your little digital goatee'd guy) and get more frustrated and annoyed than anything else.
I find it best to be systematic. Any system at all will be better than randomness (because the thing about randomness is, when you're called away and then come back, suddenly you no longer know where you left off and basically have to start over). The system you choose to employ should, of course, be tailored to your own personal strategy, but my preferred way to mine for diamonds is to implement branch mining. I find that it is an efficient way to get a bunch of diamonds, you can extend it pretty easily and scale it to whatever size you see fit. This is good for both beginners and experts.
To implement this, you'll need to dig your main tunnel to start. You'll want the floor of the tunnel to be at bedrock and the top of the tunnel to be at Level 15. I recommend making the corridor 2×1. From there, you will want to start to branch off (you see where I'm going with this?) and create smaller corridors leading off of the main one to maximize the surface area of your mine. You may want to create doors to contain any infestations.
Using a branching technique you will be able to get a ton of diamonds along with lots of iron, redstone, and gold.
Hidden Compass
You may not have known, but there is a hidden compass in Minecraft that requires a bit of extra thought to figure out. The basis of knowing the direction is by cracking blocks. This is helpful to know how to get back home after exploring a bit.
You'll want to hit a block on the side but make sure you don't break it just leave some cracks in it. You will notice that the cracks go up, to the right, and down. You can use this to show you which way is north. Point your mouse down and do the same thing around a circle until the block is in the same orientation to the one you hit from the side.
You will notice that the previous upward growing crack will point north. This will give you a sense of where north is. When you're done exploring all you have to do is the opposite and hit a block under your feet to start heading south and back home. Pretty neat trick right?
Make a Bow and Arrow
At some point you will get tired of just having swords at your disposal and you'd prefer to have some long range weapons to use in defense or attacking. Long range bow and arrows are not as intuitive or easy to come by as the swords are and take a bit more work to create them.
The main thing that makes a bow and arrow difficult to complete is getting all of the thread you need to make a bow string to shoot your arrows. Of course, you may be confused because there aren't crops that can make threads. The key is to kill spiders that will every once in a while drop some thread for you to use in your bow.
The next trick is to find something to make a suitable arrow that will pierce but again you will need some kind of stone, a feather and a straight stick. You'll notice that you can always get feathers from chicken and will need to look around for flint and a stick. Also, if you see any skeletons, I've found that they carry bow and arrow often times so you can just steal it from them.
Create A Pocket of Air in Water
This may be new to you or it may not be that new. Of course we all need air but this can be a problem if we get a little too greedy and swim too deep. Or if you find yourself mining and all of a sudden the mine is flooded. What do you do then? Well, Minecraft has built in a little trick.
All you have to do is use a torch while under water and this will create a pocket of air for you to breathe. Make sure you're right next to the torch as it won't last very long and you'll need to be quick. While this doesn't make much sense in real life, it's a welcome breath of fresh air for sure!
Stop Water and Lava
In this game you often times want to avoid both water and lava as they will kill you at worse and be a nuisance at best. The awesome thing is that you can easily propel the water or lava simply by building a ladder right in front of it or putting up a sign.
If you find yourself up against several leaks then you can just slap a sign there and you will no longer have to worry about water coming it. A pretty cool feat of engineering, right?
Stop the Zombies
Along with water and lava, everyone wants to stop zombies but they can often times be a huge pain to keep at bay. You may have noticed that they can break down doors so that doesn't really stop them. However, there are a few tricks up our sleeves to stop the zombies or even trick them into thinking a door is open when it isn't.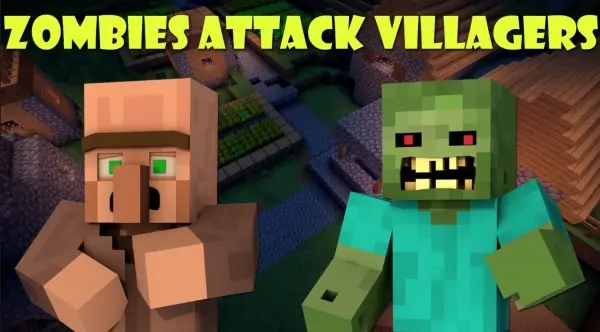 The first trick is to just put a block of dirt or cobblestone in front of the door to prevent any zombie from breaking it down. Another cool trick is to go to the door during the day and place the door perpendicular to where it should be so that the door has an opening when it's actually closed. Then you will right click on the door to open it (effectively closing the door). This will sneakily trick any zombie into thinking that the door is actually open and they won't even try to enter it!
Of course there are also a lot of ingenious ways to prevent zombies from coming into your house. You can dig a ditch outside of your door and that should in most instances stop any zombies from breaking down your door. I recommend digging a 1 by 3 trench, which I've found to be plenty big enough. Also, make sure your door is flush against you house and does not stick out or this will make it more vulnerable. Lastly, you can just raise your door by 1 block to prevent zombies.
Infinite Water
So this may not make complete sense but in Minecraft there are no limits on water so that's not something you'll ever need to worry about. You may come across a tiny little pond but think to yourself you need way more water than that.
Actually, all you need is a bucket and start to transport your water. As soon as you take some water from the pond with your bucket it will be filled again. Pretty sweet magic and super helpful if you need lots of water.
Quick Minecraft Tips
Now, I'll throw out some simple and quick tips that just may save your life one day. These aren't always intuitive but are pretty neat if you use them correctly.
You can break sand and gravel just by using saplings, flowers, string, torches, levers, etc.
If you have a bunch of trash and you need to throw it away, find the closest cactus and for some reason you can throw your trash in there.
If you want to get a little extra boost with any given potion, all you have to do is throw it into the sky and when it comes down and lands on your body it will be more effective.
If you want unlimited water, all you have to do is make a square and put two water sources in each of the corners and you will be able to get as much water as you want from them.
If you have a lily pad you can jump across oceans, just hop on the lily pad.
If you're up against Endermen all you have to do is hit their feet to kill them off quickly and easily.
If you want to stay hidden you can sneak when you're on a ladder climbing up or down and no one will b able to see you.
If you're up against a monster, hitting them with Blaze won't do anything but they will be hurt if you throw snowballs at them.
I hope this was a helpful guide to learning the very best Minecraft secrets, tips and tricks. If you have anything else that you'd like to share in the comments below, leave your favorite tip.
Also, if you would, please hit the Facebook or Twitter share button so everyone else can enjoy this post as well!