So, you have a Snapchat account? Congratulations on being one in 280 million. Snapchat has become one of the most popular messaging apps, offering something completely distinct from every other messaging service out there: self-deleting messages (or Snaps). We've written about Snapchat before, from tips on how to delete your Snapchat account and a guide to the exclusive Snapchat-only emojis.  But this time, we're covering the beautifully complex topic of Snapchat icons and their meanings.
So, what do all those fan-dangled colorful squares and arrows mean? How do I use this blasted Snapchat app? What's the meaning behind all these Snapchat icons? And why am I an 1840s Gold Rush prospector? For the answers to these questions and many more, (but really just the one about the icons), read on!
Snapchat Icons and Their Meanings
First, let's familiarize ourselves with the six different categories of icons: Sent, Opened, Received, Viewed, Screenshot, and Replay. That's a bunch of words that maybe don't mean anything…yet. Basically, these categories all relate to the different ways you can interact with Snapchat, Snapchat Snaps, and your Snapchat friends.
Within each of these categories, you'll also notice that colors repeat… the colors don't just repeat, but they also have specific meanings attached to them. But that's something better discussed as it comes up. So without any further ado, let's delve a little deeper into the world of Snapchat Icons.
Sent Icons
Our first set of icons are the "Sent" Icons. This is on your end of the deal. These are for the Snaps and Chats that you have sent to other people. (We'll get to the Snaps and Chats you've received in a minute. Also, let's assume these people are your friends.) Within this category, you may see any one of these three icons:
This redish/raspberry-colored fully filled-in arrow means you've sent a Snap without audio. Again, this is on your end of the chat, you've sent a picture of your ugliest face. You'll see as we explore other icons, redish/raspberry is used for all Snaps and Chats that don't have sound.
The purple fully-filled-in arrow represents a Snap with audio. You must have sent a small portion of your boss cursing at you or a girl in front of you walking down the hall and tripping. As you'll see, purple Snapchat icons are consistently used for Snaps and Chats with audio.
The blue filled-in arrow means a sent Chat message. A Chat is different from a Snap. You can start a Chat with a friend via text or video. It's similar to Facetime or Skype but Snapchat style, where everything is deleted by Snapchat unless there is info that you save. All other blue icons represent Chat.
There's also a grey arrow which has a different meaning based on the context.  Find out what a gray arrow means on snapchat here.
Opened Icons
The next category of icons is the "Opened" Icons. These let you know when someone has not only received but also opened your Snap or Chat. These give you a heads up so you know the real fun is about to ensue. You'll immediately recognize these icons as the open arrows. You see what they did there? Eh? Pretty clever stuff. Open arrows…opened Snap…okay, you get it.
The redish/raspberry outlined arrow indicates a friend opened a Snap without audio. That Snap you sent while on the roller-coaster  without the sound of you screaming like a little baby child;  yeah, they just saw that. Remember, red is no audio. Is it me or is it starting to look more orange? What the heck color is this?
The purple outlined arrow tells you a friend opened a Snap with audio. It's getting easier, right? Purple represents with audio and open arrow represents your friend opened it.
The blue outlined arrow lets you know a friend has read the Chat that you have sent to them. There's no taking it back now. All you can do now is anxiously await their reprisal reply.
The green arrow. Wait, hold the phone. GREEN? You said nothing about green! I was just getting the hang of this! Shhhh, calm down, it's okay, you're okay. There's this feature called Snapcash. Snapchat partnered up with Square (squareup.com, a credit card processing and business solutions business. You know the little sleek-looking white squares people at local businesses have on their phone or the white stand that they run your credit card thru when you purchase something? What? You don't shop local? Shame on you.) to make it to where anyone with Snapchat who links a debit card can send or receive money from anyone else with a debit card linked to Snapchat.
Now, as I was saying, the GREEN empty arrow means a friend viewed and received Cash. Hopefully, you were in your right mind when you sent it. All the business having to do with Snapcash goes directly thru Square so take it up with them.
Received Icons
We now come to the portion of the Snapping experience where YOU have received something. Why does your friend have all the fun? These are the "Received" Icons. You'll see one of these blocks of color when you get a Snap or a Chat. The Red (I'm just gonna calls it likes I sees it) square with rounded edges means you've gotten some Snaps (or maybe just one) that have no sound. Remember red is synonymous with no sound. Open dem Snaps!
The purple happy fun square tells you that the Snap you've received (or at least one of them, in the case of Stories) has sound.. Proceed with caution. Purple equals possible embarrassment from loud noises escaping your phone.
The blue not-square but square-looking, block-looking Q which is a fat shaded-in blue comic thought or speech-bubble means you have received a Chat. All things blue are all things Chat and this one means you got one! Huzzah! You're popular!
Viewed Icons
The following icons let you know that this is a Snap you've already seen. Enjoy these icons while they last, because those Snaps are going away pretty soon. Still, in the ADD culture of social media, it's nice to be reminded that yes, you have read this thing within the last thirty seconds.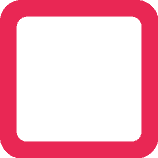 Once again, the red (!) icon is used for Snaps that don't have sound, and this is a Snap without sound that you've already seen.
We add sound, and we have another purple icon. So, an empty purple box reminds you that this is a Snap you've already seen and listened to.
Finally (for this category) we have the blue… dialogue box. Why is this a dialogue box and not a square? Is it too good for squareness? Anyway, this is for Chats that you've already viewed.
Screenshot Icons
Coming up are probably the most important icons of the entire list. These icons let you know that your Snap has not only been seen… some jerk you sent it to has taken a screenshot. Depending on the sensitivity of the… information you've sent (we'll call it that), this let's you know who you may need to unfriend. Or maybe lets you know to get your lawyer prepped.
This (pink?) icon tells you that a screenshot has been taken of a Snap without audio that you sent. I'm not entirely sure what to call this shape. It looks like there was some sort of transporter accident with the Star Trek symbol and the fast-forward / rewind buttons on your remote control.
Once again, purple is for Snaps with audio, and this lets you know that one of these Snaps has had a screenshot taken. Of course, I doubt the screenshot has preserved the audio… so you've got that going for you.
And the blue Star-Trek-forward icon lets you know that someone you've sent a particular Chat to has taken a screenshot of it. Man, you need better friends.
Replay Icons
Snapchat's Replay feature is one of its better kept secrets… but we've talked about it before. Basically, after you've viewed a Snap, there's a dialogue box that will give you the option to replay if you press and hold. However, you can't just do this left and right: you only get one replay every 24 hours. Also, you can only replay a Snap immediately after seeing it. So, no looking at another Snap, getting out of the app, or switching to another app before watching the replay. If you don't hit replay immediately after watching the Snap… you don't get a replay.
This… puce (magenta?) loop icon is not the Ourobouros… the mythical snake that devours its own tail for eternity. This it the icon that lets you know that the Snap you sent (the one without audio) has been replayed. Good job, you! You've sent out something truly side-splitting, or notable enough that one of your friends has decided to use their one daily replay.
This purple loop is the same as the above, but it's for Snaps that do have sound. So this lets you know that that has been replayed. And probably in front of your ex.
Do you notice a distinct absence of blue loops? I mean, it makes sense… you don't need to replay a Chat, since it's just words. I guess I just miss the blue icons. Also, don't you wish there were a green loop that would let you double the amount of money a friend has just sent you? Yeah, I don't think that one's happening in the near future, either.
What's New With Snapchat: 2019
Less than a year has passed, but leave it to Snapchat to never stop moving! As expected the app has continued to grow in size, scope, and the number of features that it makes available to its millions of users. This has included changes to existing functions in the app, the addition of entirely new actions, and the addition of…you guessed it: more icons! We'll give a rundown of what's changed and what's new, to hopefully give you a better idea of how to make navigating Snapchat a headache-free experience.
Some things have changed, some things have grown, and some things are brand new!
Map Status is a feature that allows you to share with your Snapchat friends where you are at any given time on the Snap Map. When you update your Map Status, your Bitmoji will appear on the Snap Map with the name of the location in a text bubble. All you have to do to set your Map Status is swipe down on the main Snapchat camera screen, then hit "Status." Once you select "Where are you?," you can customize your status and select your Bitmoji. Finalize your Map Status by clicking "Set Status," and voila! Those you share your location with can now see your status until you move on to somewhere new (or after four hours).
The Gold Star feature is basically the equivalent of a blue checkmark on Twitter or Instagram. It means you have a large following on Snapchat and have a history of posting engaging content. Typcially, the people that recieve the Gold Star are celebrities or influencers, as well as Lens Creators.
Snapchat for Android was rebuilt in 2019! If you're an Android user, you likely remember the frustrating bugs and slow load times that came with the old Snapchat app. While you won't notice much difference in the appearance and functionality of the app, you'll be pleased to experience a much faster Snapchat without the disruption of bugs all the time.
Snapgames, Snapchat's new gaming platform was recently launched, rolling out its first three games, Bitmoji Party, Zombie Rescue Squad, and Snake Squad! In total, there will be six games released in the first round of testing, all of which can be accessed right in your Snapchat app. They are designed to play with your friends, or individually if you choose. Simply select the rocket ship icon to start a game when you are in a chat or a group chat.
Location Stickers are one of the most popular Snapchat features of the year, allowing you to share with your followers where you are in the photos you take. Whether you're snapping a photo of you at the beach, the gym, or in your living room, just select the sticker button (third icon down on the right), hit "location," and scroll through the nearby places until you find what you're looking for! What better way to show off your travels to Punta Cana, Paris, or Playa Del Carmen.
Friendship Charms are a way to recognize your friendships on Snapchat! Each charm represents something that you and your friend have in common or something that you have experienced together. For instance, if you and your friend are both Scorpios, you could recieve the Zodiac friendship charm. The best part about this feature? Friendship Charms are always surprises!
So this has been our rundown on the Snapchat icons and what they mean. We hope this makes your Snapchat experience a bit less of a headache. If you have any questions, you can head over to the Snapchat support page, but you'll probably have better luck by posting a comment to the article. Nothing too long, though. Keep it snappy.
Note: This article was originally published on September 7th, 2015. It's been updated to feature the newest Snapchat updates as of June 3, 2019.